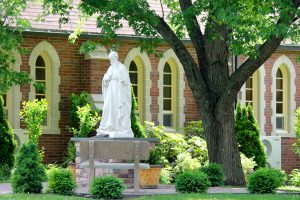 Since 1953, St Jude the Apostle School has provided countless children with outstanding academic experiences with one thing in common: our past and present students share the magnificent benefits of an education that is always grounded in faith and focused on preparedness for the future. Our school is a special place to learn, work, and worship.
St. Jude the Apostle School serves students from early childhood through fifth grade from all surrounding school districts and counties. Children of all faiths are welcomed to join our school community and receive an education that prepares them for the modern world and its many opportunities and exciting challenges. Because of our traditionally proven high academic standards and strong moral character, our graduates are well-prepared for the rigors of middle school and beyond.
In the fall of 2023, St. Jude the Apostle School will celebrate 70 years of excellence. This milestone reminds me of the tremendous impact our school has on the lives of its students. It is our everlasting mission to create an environment where a sense of values and proper attitudes are fostered, human dignity and personal worth are nourished, discipline and self-direction are developed, and faith flourishes.
Each tour gives a small group of visitors an opportunity to observe students and teachers in our classrooms.
By choosing St. Jude the Apostle School , your child is joining a storied history of accomplishment. St. Jude the Apostle empowers a challenging curriculum accommodating students of all abilities. The academic programs continuously meet or exceed the benchmarks set by both the New York State Department of Education and the Roman Catholic Diocese of Albany. Above all, you gift your son or daughter an opportunity to learn about their faith, not as separate from other learning, but rather as part of all learning.
The best way to discover the benefits of St. Jude the Apostle School is by spending some time with us.
I invite you to visit us to see a distinguished education in action. I would be honored to personally give you a tour of our facilities. I welcome the opportunity to share more of the good news that is St. Jude the Apostle School.
God Bless,
Kristine Hoffay
Principal